Frustration-Free Purchase Order Software That Saves You Money!
Helping You get rid of Spreadsheets for order tracking
register for a demo
What Is Spreadsheet-Based Purchase Order Process Costing You?
It is more than just time..
assessment
Poor Cash Flow Visibility
You lack complete visibility into your expenses and hence can't plan your cashflow.
account_box
Lack of Cost Control
There is no way to proactively control costs because of a lack of compliance.
block
Lost Productivity
You are losing valuable time in creating and chasing purchase order approvals.
You & Your Co-Workers Deserve a Better Purchasing Experience
Best in class companies spend their time in making better decisions based on spending data, not creating purchase orders.
Better Visibility
Get instant visibility into your spend, accrue expenses on time and improve working capital.
Increased Productivity
Cut the time spent on creating and approving purchase orders by 50%.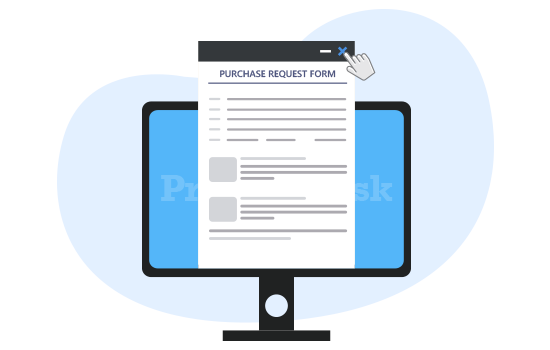 Increased Cost Control
Implement an approval process to ensure the pre-authorization of spend.

Your Plan to a Frustration-Free Purchase Order Process
Schedule a demo and see how ProcureDesk Purchase order software can help you implement a seamless purchasing process.
Review your current process, identify any gaps, decide the cost controls you want to implement, and set up an optimum purchasing process.
Experience a seamlessly integrated purchase order process
We were looking to get our purchasing workflow processes streamlined and needed to ensure we could be CPSR ready. ProcureDesk provided everything we needed. They have always been responsive to our needs and offer solutions when we are not able to do so. We needed better visibility and an efficient approach through automation. If you have similar requirements, you can depend on ProcureDesk.
IT services company
Project Manager
ProcureDesk is very easy to use Procurement system. We especially like how the system helps us to automate our entire request and quote process. The request module helps us to enable better collaboration with our stakeholders on their requirements and helps the Purchasing team to gain better visibility into organization Spend. Making the team a more productive and efficient team.
Manufacturing Supplies Company
Chief Innovation & Product officer
Cloud Based Seamless Purchase Order Solution
Imagine a simple purchasing system where users can create and track their own orders and you have an end to end visibility into the purchasing process and Company spend.
assignment
Requisition Management
Allow users to create Requisitions from catalogs, free form texts.
local_grocery_store
Purchase Orders
Create Purchase orders from requisitions and track orders in realtime.
beenhere
Approval Management
Multi-level approvals based on the amount, category, department and much more.
assessment
Dashboard and Reporting
Get the spend visibility you always wanted, at your fingertips.
chrome_reader_mode
Supplier Catalogs
Catalogs to support repeat purchases. Ease of use and compliance.
assignment_ind
Supplies Quotes
Get Quotes from suppliers and easily find the best value for your company.